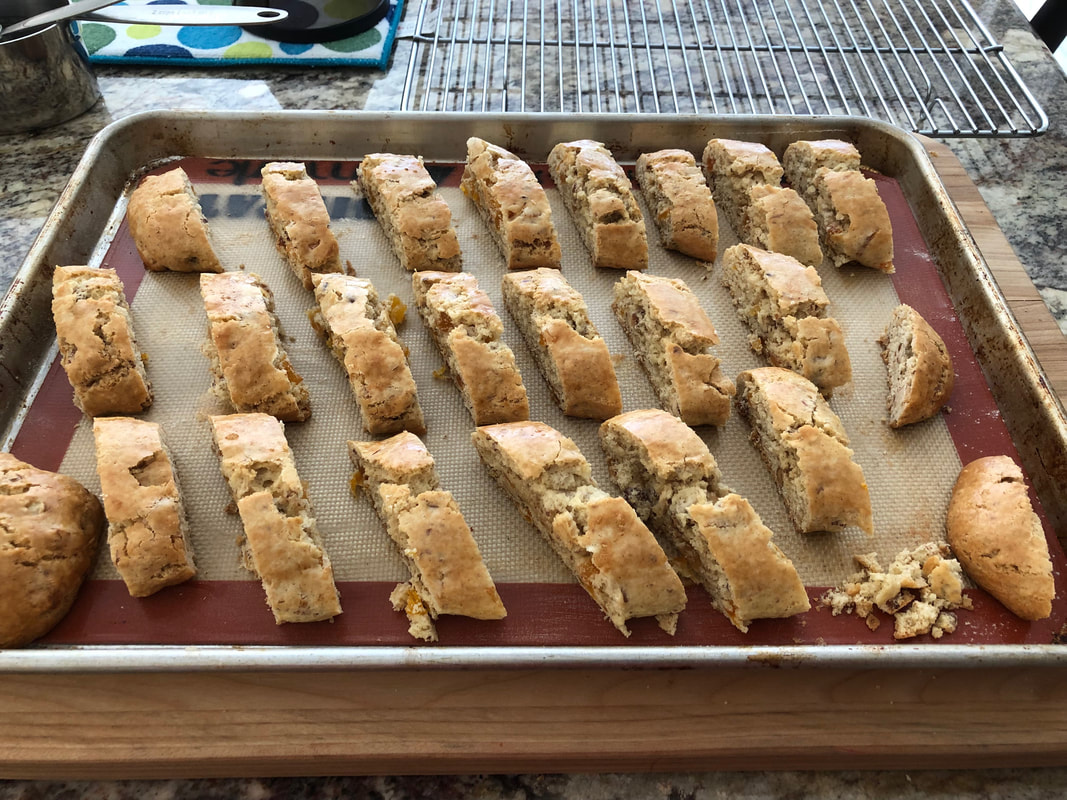 Author
Carol Piazzon
CRUNCHY ALMOND BISCOTTI
1-3/4 CUPS ALL-PURP. FLOUR
¾ CUP WHOLE UNBLANCHED ALMONDS
2-1/4 TSP. BAKING POWDER
2 LARGE EGGS
¾ CUP GRANULATED SUGAR (PART VANILLA SUGAR)
¼ TSP. SALT
¼ CUP UNSALTED BUTTER, MELTED
2 TSP. PURE VANILLA EXTRACT
½ TSP. PURE ALMOND EXTRACT
OPTIONAL, A COUPLE OF DROPS OF ALMOND OIL
OPTIONAL, ½ CUP OF DRIED APRICOTS DICED OR ½ CUP OF DRIED
CHERRIES (OR DRIED FRUIT OF YOUR CHOICE)
1 EGG WHITE, BEATEN
​
PROCEDURES
PREHEAT OVEN TO 350 F.

TOAST ALMONDS ON BAKING SHEET FOR ABOUT 5 MINUTES AND
ALLOW TO COOL. COARSELY CHOP BY HAND OR IN FOOD PROCESSOR –A COUPLE OF PULSES SHOULD DO IT.
IN BOWL, COMBINE FLOUR, ALMONDS AND BAKING POWDER

IN A SEPARATE BOWL WHISK EGGS, SUGAR, MELTED BUTTER, VANILLA AND
ALMOND EXTRACTS, ALMOND OIL (IF USING); STIR IN FLOUR MIXTURE TO FORM DOUGH.
ADD DRIED FRUIT (IF USING)

ON A LIGHTLY FLOURED WORK SURFACE, KNEAD DOUGH GENTLY INTO A SMOOTH BALL – YOU MAY HAVE TO ADD A BIT MORE FLOUR.

DIVIDE DOUGH IN HALF; ROLL EACH INTO A 12 INCH LOG.

TRANSFER TO AN UNGREASED BAKING SHEET – I USE SILPAT OR PARCHMENT PAPER.

BRUSH LOGS ALL OVER WITH BEATEN EGG WHITE.

BAKE IN 350 F. OVEN FOR 20-25 MINUTES . REMOVE FROM OVEN
AND LET COOL FOR ABOUT 5 MINUTES.
NOW….LOWER OVEN TEMPERATURE TO 325 F

WHILE OVEN TEMPERATURE IS ADJUSTING, SLICE LOGS DIAGONALLY IN ¾ INCH SLICES. STAND COOKIES UPRIGHT ON BAKING SHEET AND
BAKE FOR ANOTHER 20-25 MINS. OR UNTIL GOLDEN BROWN.
REMOVE FROM OVEN AND LET COOL ON RACK.

THESE COOKIES MAY BE STORED IN AN AIRTIGHT CONTAINER FOR UP TO 1 WEEK.

ONCE COOLED, YOU MAY DIP ONE END IN MELTED SEMI SWEET CHOCOLATE AND ALLOW TO SET ON SILPAT OR PARCHMENT LINE COOKIES SHEET IN FRIDGE UNTIL CHOCOLATE HAS SET.

RECIPE MAY BE DOUBLED.

WHEN I DOUBLE THE RECIPE, I FORM DOUGH INTO THREE LOGS…
BISCOTTI ARE BIGGER ESPECIALLY WHEN BEING CUT ON THE DIAGONAL.
INITIAL COOKING TIMES WOULD BE 30 TO 35 MINS. FOR THE THICKER LOGS OF DOUGH.

WHEN SLICING THE BISCOTTI FOR THE SECOND BAKING, USE A SERRATED KNIFE AND, ANOTHER TRICK, IS TO LIGHTLY SPRAY THE
COOKED LOGS WITH WATER BEFORE SLICING THEM.
AFTERALL, THEY ARE GOING BACK INTO THE OVEN FOR THE 2
ND
BAKE.
BON APPETIT!
Categories